ProDiet Adult Ocean Fish Flavor Dry Food - 500gm
Tk. 450
Overview
ProDiet Adult Ocean Fish Flavor Dry Food 500gm • A complete balanced nutrition for the Adult. • Protein from ocean fish and milk promote growth by providing healthy bone, healthy immune system and energy. ProDiet Ocean Fish Flavour is filled with F
Description
Highlights
---
ProDiet Adult Ocean Fish Flavor Dry Food 500gm
• A complete balanced nutrition for the Adult.
• Protein from ocean fish and milk promote growth by providing healthy bone, healthy immune system and energy.
ProDiet Ocean Fish Flavour is filled with Fresh Ocean Fish to satisfy every cat's preference. Strictly certified suci bersih, ProDiet® is compliant with the GMP & HACCP regulations. Complete with additional nutrition, ProDiet Ocean Fish also helps Hairball control, reduces odour and helps maintain your cat's dental hygiene.
Each ProDiet flavour has the same amount of protein to maintain the proper protein content to sustain your cat's needs. This means that they help make up the immune system of your cats internal body structure. Fats are used to supply energy; fats make a diet more palatable to a cat and help to maintain a healthy skin and Haircoat. By extensive research, we have included Carbohydrates into your cat's diet to help provide extra energy. Carbohydrates are typically made up primarily of sugars, starches and cellulose (fiber)
Ingredients:
Fish Meal (Ocean Fish), Corn, Soybean Meal, Rice, Poultry Meal, Corn Gluten Meal, Poultry Fat, Tuna Oil, Vegetable Oil, Taurine, Yucca, Essential Vitamins & Minerals, Vitamin E, Vitamin C, Choline chloride, Oligo Saccharid Enzyme and Food Grade Colour.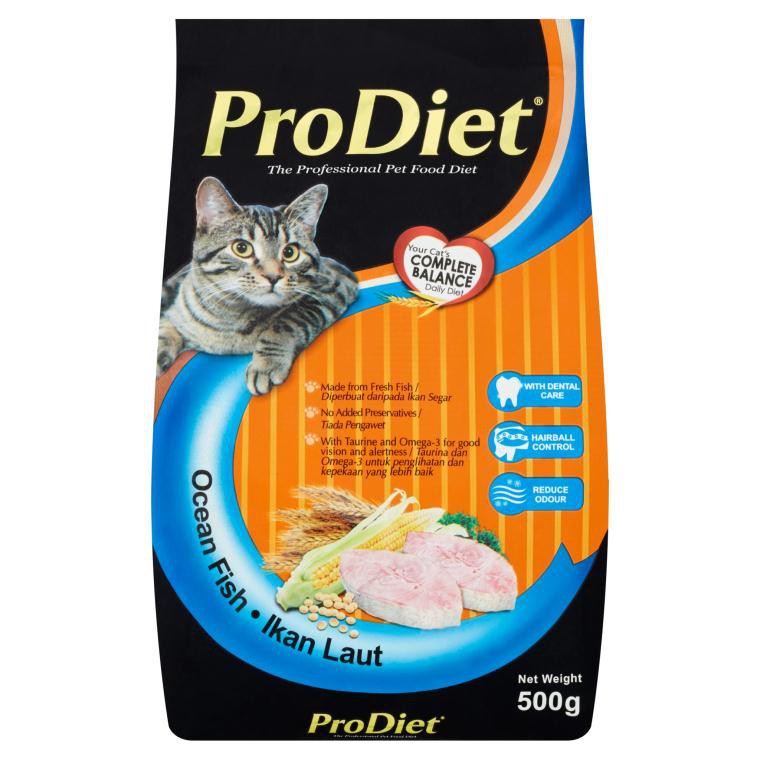 Reviews
Ratings and Reviews
---
Add your review